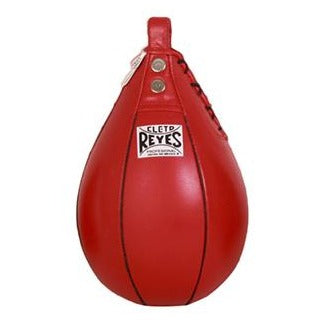 Cleto Reyes Leather Speed Bag Various Sizes Red
---
The Cleto Reyes Speed Bags have a well-defined detail that helps improve reflexes and coordination on each hit. These bags are specifically made to improve skills for strategy and instinctive while also increasing punch speed. 
Designed with the finest craftsmanship and highest quality material, handmade from Mexico.

Manufactured under the strictest conditions in leather and all materials.

The most recognized speed bags on the market for their durability and fast swing.

Made from genuine leather and tough nylon linings, the top standard materials, to provide long durability and the best punching absorbency with the perfect rebound.

Long lasting material.

Real Leather 100% genuine.


Sizes available:
6" x 9" (S)
7" x 10" (M)
7" x 11" (L) 

Tags: cleto reyes boxing speed bag, cleto reyes speed bag canada, cleto reyes, speed bag edmonton, fight shop canada, boxing store canada, fight store edmonton
---
Share this Product
---
More from this collection